In The Garden | What We're Planting (Summer 2019)
Want to grow your own food but don't have a large amount of space to work with? Neither do we, but today I'm going to give you an inside peek into everything we grew and some small vegetable garden ideas you can use for your own small space garden design.
Often I find that when people refer to gardening in small spaces they always stop with a few herbs you can grow on your window sill or in containers on your balcony and very rarely venture into the world of growing vegetables in small spaces. Personally, I LOVE growing vegetables in small spaces, and find the challenge of maximizing space to grow your own nourishing food a lot of fun.
This year I would argue that we grew just as much if not more produce that most of our friends and family with much larger spaces that they don't need to think of maximizing. So if you don't have a lot of space to garden but want to move beyond herbs, I hope you find our garden plan helpful for inspiring some small vegetable garden ideas for your own garden!
Our Garden Space
Even though we now live in the country, our current home is set up on a beautiful riverbank, which gives us a stunning view of the river and mountains, but unfortunately not a lot of space for growing a garden. While one day I dream to have a lot of land for a small farm of our own, for now we have to make do with the space we do have, and it is more than enough!
On our property we have a huge patio space that is 40 x 8 feet, with additional space below and on the side of the patio that are perfect for placing containers and growing flowers and herbs with short roots. Since we didn't need as large of a patio space we opted to compromise outdoor "living space" for an elevated and container garden design.
Luckily, our patio gets incredible full-sun, which is ideal for growing vegetables and most herbs, as well as some partial sun that works well for leafy greens like lettuce that love cooler conditions and a little shade.
This was pure luck since there really isn't anything you can do about your sun exposure, which will always be one of the most important aspects of any gardens success.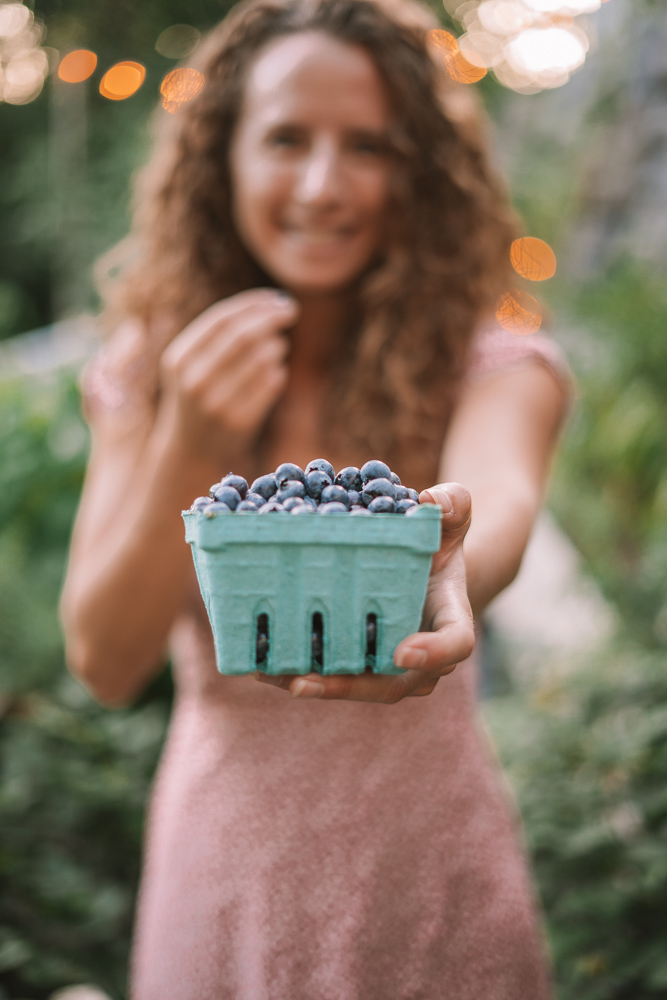 New to gardening? let us show you exactly how to grow a thriving garden of your own!
We've Created The Beginners Garden To Help Make Growing Your Own Food As Simple As Possible. So No Matter How Much Space Or Experience You Have The Beginners Garden Will Help You Grow The Garden Of Your Dreams!
What We Are Growing This Summer
Here is what we grow in roughly 80 square feet of elevated garden beds, plus varying containers. Ideally, if we had more space we would spread out the plants we are growing in our elevated beds a little more, but so far they seem to be doing just fine.
This is a good example of how reading plant spacing/yield instructions can generally be helpful, you never really know exactly what you will get in your space with your particular growing conditions until you try.
Large Elevated garden Beds
For the two longer elevated beds which take up most of the space in our garden we opted to grow a wide variety of root vegetables, companion flowers and herbs, as well as some fruit vegetables like eggplant and peppers. Since we don't have a lot of garden space to work with we also made sure to consider crop maturity dates and succession planting to help maximize our garden harvest.
Bed #1: 4x8 feet long
2 - window box cherry tomatoes

4 - oregano

4 - basil

1 row of carrots

1 row of beets

3 rows of scallions

1 sq foot of spinach

1 row of bok choy (one harvest, pulled to make space)

2 - nasturtiums

Calendula flowers on either end
Bed #2: 4x8 feet long
2 - holy basil

2 - parsley

9 - pepper plants (different varieties)

2- asian eggplant

3 - morning glory (grown-up our 10-foot rock wall)

2 - nasturtiums

Calendula flowers on both ends
Small Elevated Garden Beds
For the two smaller elevated garden beds we opted to use them to support our climbing plants with an arched trellis connecting the two elevated beds. Early on in the season we planted radishes and swiss chard for an early summer harvest, and then transitioned the beds fully to support a few of our heirloom tomato varieties and the vining plants for our arched trellis.
Bed #3: 2x4 feet long
2 - cherry tomatoes

1 - thyme

+ plants for arched trellis (see below)
Bed #4: 2x4 feet long
2 - vine heirloom tomatoes

1 - thyme

2 rows of radishes (one early harvest then pulled for space)

1 row of swiss chard (one harvest then pulled for space)

2 - basil (we ended up moving these to a sunnier spot)

+ plants for arched trellis (see below)
Arched Trellis:
Our arched trellis is one of the best additions we made to the garden. Not only is it space-efficient, but it is also so beautiful to look at! One the arched trellis (which sits in our 2-2x4 foot beds) are:
3 - cucumber plants

2 - sweet peas

6 - tri-colored poll beans

1 - morning glory
Large Containers
You can grow just about anything in containers but you absolutely must make sure that the containers you are using are large enough to support the plants you are growing. For plants that grow tall and produce a lot of fruit (like tomatoes) it is really important that you plant them in large containers that will support their growth.
I personally wouldn't plant tomatoes in anything less than a five gallon container.
Large Clay Pots:
2 - rose bushes

1 - climbing rose bush

6 - vine tomatoes (black krim, gold metal, san manzano)
Large Self-Watering Pot:
3 - tomato plants (1 vine, 2 cherry)
Galvanized Metal Tub (3 feet long by 1.5 feet wide)
Medium And Small Containers
For most herbs and small fruit producing plants like peppers you can often get by with medium to small size containers. However, if you feel that your plants are starting to outgrow their smaller containers, which you can tell if the roots are coming out the bottom drainage hole or they appear stunted, then you will want to transplant them into a larger container.
Medium Pots:
3 - rosemary

4 - lavender

2 - mint

1 - sage

3 - basil

5 - eggplant

1 - pepper
Medium/Small Pots;
2 - dill

2 - chive

2 - cilantro

2 - lemon balm

2 - sage

2 - tarragon

1 - lemon thyme
Small Rock Wall Herb Garden:
We do have some space about 2x4 feet at the end of our patio where we planted an herb garden into our rock wall. This spot is a bit of an experiment to see what thrives, but for now we have:
1 - Russian sage

1 - tall grass

2 - lemon grass

2 - basil

1 - stevia

3 - sage

1 - rosemary

2 - lavender

2 - lemon balm

1 - evening primrose flower

1 - tarragon

1 - thyme
What We Will Do Differently Next year
While generally we really have liked how everything has worked in the garden there still are a few things we will do differently next year. Gardening is a constant process of moving and learning what works best in the space you have, and even year to year your success with the very same plants can change.
This is the fun (and frustrating) part about gardening.
Next year we have already decided that we dedicate a larger amount of our raised bed space to some root veggies that we love (like radishes, carrots, and beets). Because they can take a longer time to mature if we are going to put the work into growing them we decided that we need to get more from our crop then just a small row or two.
This year we also started our basil plants near our tomatoes in two of our small elevated beds, which once the tomatoes grew large enough totally blocked the sun from reaching the basil. We ended up having to move the basil plants to a sunnier spot, which can be stressful for the plants and something we will avoid next year.
And that's it! We honestly have a lot going on in our small space summer garden, but so far everything is growing really well and thriving.
We definitely weren't afraid to get rid of a few plants after one harvest (like beets and bok choy) to make room for others, which helped with some overcrowding issues, and overall I am happy with how everything is maturing and the cycle we have been able to harvest in since late spring.
What are you growing in your summer garden? Let us know a few of your favorite below in the comments.